Two Toronto deluxe animal spa owners say COVID meant business went up between 20-30% as people no longer viewed their pets as property but rather family
Jane Stevenson | Toronto Sun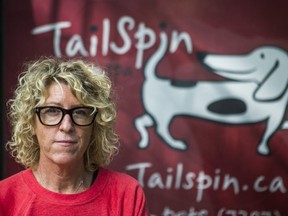 The dog days are CLEARLY over.
Since the pandemic started, people stuck at home started adopting more pets and as they spent more time together indoors, humans also spent more money on their animal companions who they treated even more like family members.
This has meant boffo business for dog and cat groomers locally.
Two Toronto deluxe animal spa owners say COVID meant business went up between 20-30% as people no longer viewed their pets as property but rather family.
"It seems to have levelled off now but at the height of COVID it was insane," said Tailspin owner Deidre Howard, who's run her 12 Irwin Avenue business (just south of Yonge and Bloor) since 2012.
"Definitely at least 20-30% (up). The business didn't double but it went up quite a bit. I think the dogs were a little bit more spoiled. And a lot of people got dogs that were maybe single and so yeah, (the pet) became more of a real companion. They're definitely more into their dogs."
As in getting them a blueberry facial or hair colouring.
Tailspin, which caters to dogs, offers them both for man's best friend, for starters.
"The blueberry facial – it's for especially white dogs that have staining, it does help freshen up, lighten up, the face a little bit," said Howard of the $15 add-on.
"One of my groomers just took a course and we're doing colour now which is going to be something we're introducing. So we've already got a couple of dogs, we've done their tails really crazy purpley-blue. That can be a little pricier from $40 to $60 to dye a tail."
A grooming every other month for a large dog can range from $150-200 and a small dog from $90-120 at Tailspin.
Or how about a unique way of cutting your pet's hair?
Look no further than Yorkville's Pawfect Spa for cats and dogs (207 Avenue Road) which has been around since 2003.
"We specialize in hand scissoring or styling for show quality grooming," said Pawfect co-owner Elsie Tang, who said her business went up 30% during COVID.
"So basically it's for styling more than just crimping. We will make a pet to look like a show dog. A lot of the places, they just use crimpers to shave the dog and for us, we use scissors for the hand scissoring technique."
Tang said she usually sees clients every four to six weeks and each dog takes about three hours including nails, ears, shampoo, conditioning and hand scissoring trims with a Yorkie costing about $136 and a larger dog like a Newfoundland costing around $300 to start.
She said during COVID some clients were even spending "thousands of dollars" on their large dogs due to them not being groomed for a longtime due to pandemic-shutdowns.
"These kinds of things – it is pampering," said Tang. "Like think about it. Thousands of dollars to groom a dog."
For cats, who require two handlers because they are squirmish than dogs,  Pawfect offers, among other things, something called "a lion cut," meaning the body is much shorter with the head remaining like a mane, i.e. like a lion.
In the end, it seems like it's all worth it in human terms.
The Washington Post says a new University of Montreal research that suggests pets were a panacea for things like isolation, loneliness and poor health habits suffered by people stuck at home during the pandemic.
Researchers found that owning at least one dog encouraged immunocompromised people to exercise more and sleep better whereas non-dog owners spent more time sedentary and lost sleep.
This article originally appeared on the Toronto Sun: Pet grooming boomed in Toronto during COVID: People 'more into their dogs.'
Leave a reply