Paul E. Eden
Excluding the Covid anomaly of 2020 and its knock-on effect into 2021, Korean Air has seen a year-on-year increase in the number of passengers traveling with animals through its SKYPETS program. In 2019, some 37,000 people took their pets away with them, increasing to 39,000 in 2022. By the end of June 2023, 23,000 passengers had already boarded with their pets.
Now, Korean Air is rewarding those pets and their owners with loyalty stamps on their SKYPETS passport. "Passengers who've purchased a Korean Air flight either through cash or award miles are eligible to receive stamps," explains Lisa Witter, manager, global communications team at Korean Air. "One stamp is earned for each leg of a domestic flight and two stamps for each leg of an international trip."
Stamps are redeemed on the airline's website or mobile app and must be used within one year of the travel date. Twenty-four stamps earn free travel for a pet on an international flight segment, which could be between the US and Korea, for example. Alternatively, 12 stamps can be used to secure a 50% discount on a similar segment.
Witter says a one-way segment from the US to Korea for a pet and cage weighing 32kg or less currently costs US$300, rising to US$600 for a pet and cage weighing between 32kg and 45kg, making the saving worthwhile.
Pets must first be registered for a SKYPETS passport online, with a photo, plus details of their name, animal type, and breed. The scheme is open to cats, dogs, and birds. Korean Air describes itself as pet friendly and that, Witter notes, means, "Our ground handlers are trained to work with pets and a dedicated section is set aside in the bulk compartment to make room for our special guests. Also, our flight crew monitor the temperature levels in the bulk compartment to ensure an optimum environment is maintained throughout the flight."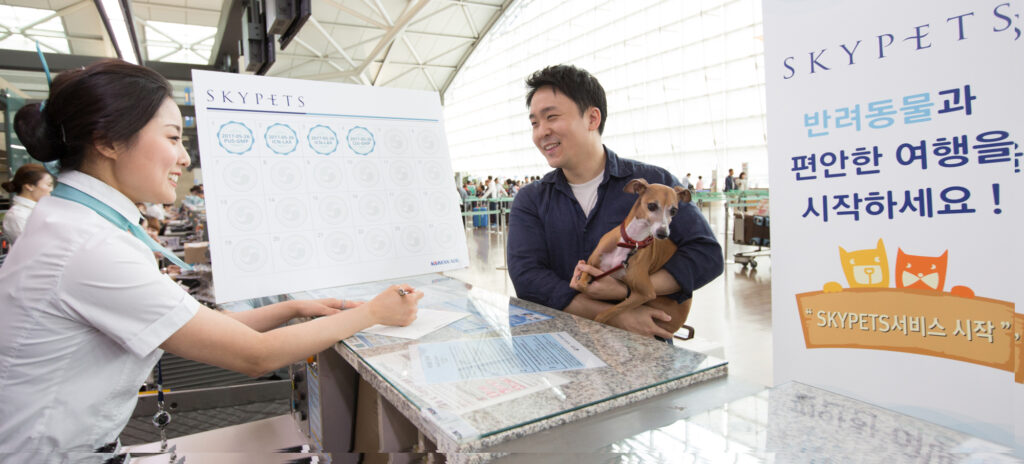 There are also dedicated pet seats in the cabin, where animals must be at least eight weeks old to travel; the cargo compartment is considered suitable for pets at least 16 weeks old. Allowing younger animals in the cabin is good news for their owners, but potentially less so for other passengers seated nearby. "Designated pet seats are shown on the flight's seating map, so passengers can see if they might be seated near a pet," explains Witter. "We also tell passengers checking in at the airport that they will be sitting near a pet and make sure they are okay with the arrangement."
According to Witter, South Korea has around 12.62 million pet owners. "Pets are our customers' companions," she states. "We've seen a growing number of Korean Air passengers traveling with them, especially after Covid. The trend is repeated elsewhere too. Around 70% of households in the US are reported to own a pet, for example."
Between 2021 and June 2023, approximately 56% of Korean Air passengers traveling with pets were on domestic flights, while about 41% of those flying with their animal companions internationally were of Korean nationality.
"All our passengers are very important to us," says Witter. "We will continue to improve our pet transportation services, especially as the number of passengers travelling with pets continues to grow. We want to be known as a pet-friendly airline, providing a comfortable journey for our SKYPETS customers."
This article originally appeared on Runway Girl Network: Increased demand for pet travel sees Korean Air offer SKYPETS rewards
Leave a reply